Internship Offer AOC Set-up in Malta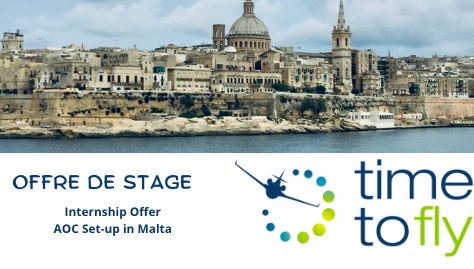 Internship description : AOC set-up
Time to Fly Ltd. is looking for an aviation intern in Malta for a new AOC set-up. His/her main tasks will be:
Writing the Operations Manual in collaboration with the pilots
Writing the MEL
Preparing the SPA approvals (RVSM, LVO, DGR…)
Verifying the presence of all the installed equipment on the aircraft as per EASA regulations
Coordinating with the Safety and Compliance Manager
Participating to the authority's certification audits
Qualifications and experiences :
IENAC, Msc IATOM, ATM, MTA, ASAA or SMA (preferably)
Good level of English (written, spoken, read) essential.
Some AIROPS knowledge.
You will be able to work independently and take the initiative.
Details :
Location: Malta
800€ / month
Starting date: February/March 2023
Send your application to jobs@timetofly.eu with "MALTA intership" in the subject line.